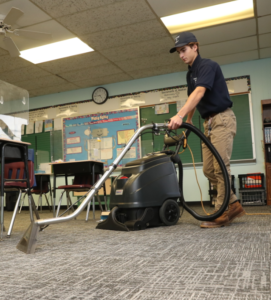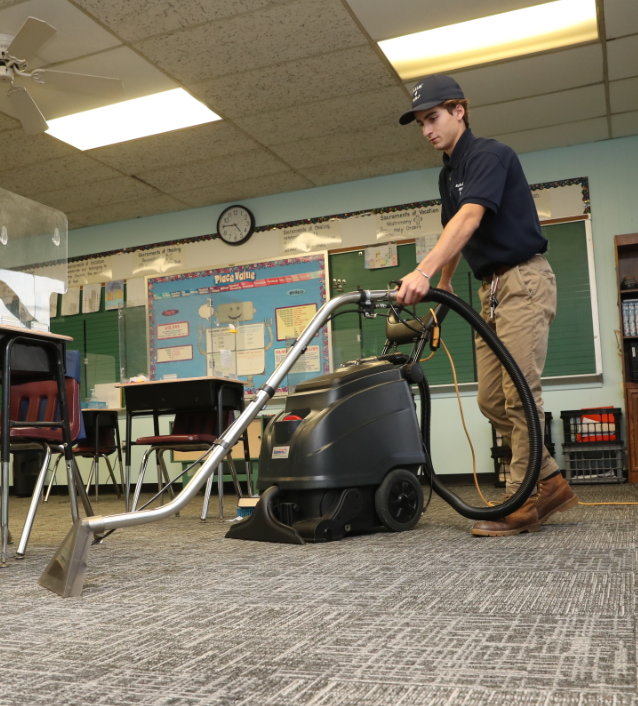 For site managers in need of keeping their properties sanitary and presentable, call on Educational Facility Management, a trusted name in New Jersey cleaning service for schools.
Educational Facility Management is the janitorial service provider you can depend on. We provide service for public, private, and charter schools as well as special needs organizations throughout South Jersey. When clients call on EFM, they get a team that specializes in the management of environmental cleaning & maintenance services for educational institutions.
Partnering with Our New Jersey Cleaning Service for Schools
We've been trusted to accommodate public, private, religious, and charter schools, special needs facilities, and other educational and healthcare sites. As a company focused on keeping sites up to code and above standards, our mission is to provide the best possible services with exceptional customer service at a competitive cost, relieving them from the day to day concerns.
Facility Maintenance
We at EFM can create a customized job description that allows the day porter to meet all your schools' needs. From painting classrooms to cleaning restrooms or cafeterias, we are here to meet your needs. We can also provide a fully trained facility director to help customize a preventive maintenance program and implement budgets and get quotes for supplies and services.
Custodial Services
During consultation, we look to see what the current janitorial services program consists of. Most of the issues a k-12 school faces stem from:
A staff that is not trained

Using outdated equipment

Not using a hospital type chemical dispenser
With our services, we can fill these gaps and keep your center safe and sanitary. Our process starts on day one on the first day of cleaning your childcare center. We find evening hours to be the ideal time to have the center cleaned, with an empty facility. For clients who have low enrollments, having a full-time cleaning service is a great way to help the center advertise.
We would recommend daily custodial services to ensure that the school is being cleaned. We would also recommend that by having a daily service, it is advertised in the school marketing program to help increase enrollment. We recommend that the latest technology products and equipment be used in your center. All products are hospital grade EPA approved.
Cleaning Supplies & Delivery
We are proud to offer a school purchasing program. The program allows our clients to get many products directly to the customer at a reasonable cost. We have everything from:
Covid 19 PPE

Electro static machines,

Hand sanitizers

Disinfectants

Trash liners

Floor buffers

Floor scrubber

Carpet extractors

Back pack vacuum cleaners
Many of the same hygienic, green, safe cleaning, and maintenance materials we use are now available to your facility at reasonable cost and efficient availability via our single source catalog.
Carpet Cleaning
Our carpet cleaning program involves daily spot cleaning, while carpet shampooing is completed quarterly. Doing this gives your carpet a daily cleaning and helps eliminate the need for another outside service saving your facility these higher costs.
Infection Control – COVID-19 Cleaning
Creating a sanitized scholastic environment is our mission, which is why we use the US regulated, high-quality chemicals to disinfect and fight against any form of bacteria and microorganisms. During consultation, we look at the equipment and products the janitor uses. We find that some of the problems stem from:
Not using clean mop heads

Not changing the mop water

Not using the proper chemicals and products to clean the school
Proudly Serving: South Jersey, Camden County, Burlington County, Gloucester County, Salem County, Mercer County, Atlantic County, Monmouth County, Ocean County, Cumberland County
Call us today or fill out the form below to get started with us today!