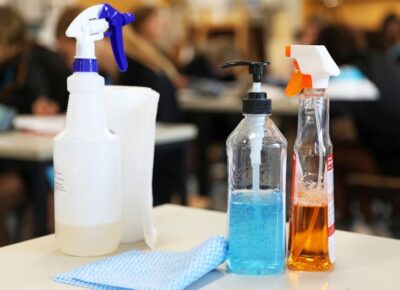 If you are seeking a school cleaning contractor that provides reliable, quality service, call Education Facility Management today. EFM is the answer to your search for a Haddonfield cleaning service for schools – we provide the best value for cleaning services in schools throughout Camden County. We offer services for all types of schools, including public, private, religious, and special needs schools, and our goal every day is to ensure a safe and sanitary environment for your school's children and staff.
EFM was founded in 2010, and since the beginning we've grown through repeat business and word of mouth – we're very proud of our current 95% client retention rate. We believe in not just providing safe and effective service, but in courtesy and professionalism on school grounds. EFM uses the latest in modern equipment, cleaning materials that are free of harsh chemicals, and techniques that are proven to be effective and safe.
Your Haddonfield School Cleaning Service Consultation
Our service starts with an initial meeting with your school's representatives, where we review your current services and show you what can be improved. We'll determine if your current cleaning staff is trained properly, whether they are using ineffective equipment or methods, and what sort of dispensers for supplies are being used. An EFM representative will also examine the condition of your carpets and see if they need replacing.
During your consultation we'll also show you how we do things…the equipment we use, our cleaning practices, and how we keep your school disinfected for COVID-19. Having a proven cleaning service on staff is a great advertising point for your school; it's another point to offer to increase your enrollment.
Get started with EFM today…and let us show you more about what makes us the proven choice in Haddonfield cleaning service for schools. We'll be happy to explain to you how we provide first class services at a price within your budget. Fill out the form below or contact us here and tell us what you need; we're looking forward to meeting with you!
If you'd like to see case studies, school sanitation tips and available positions, visit our Facebook page!